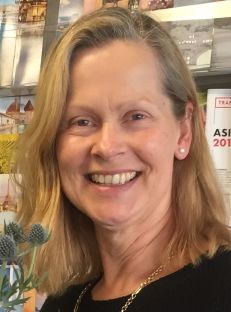 With 30 years of experience Outdoor Travel has access to a wide range of airlines and airfares to destinations around the world. We offer Economy fares, Premium Economy (with more legroom), Mixed Class (where you fly the short sectors in Economy Class and long sectors in Business Class), Business Class or First Class airfares to destinations such as the United Kingdom and Europe, New Zealand, Vietnam, the USA or Canada and more.
Outdoor Travel's Fares Desk team offer you a FREE and complete travel planning solution:
Yvette, our Senior Travel Consultant can assist you with all your travel arrangements to make your holiday a most wonderful experience. She has access to accommodation, car hire, rail travel, tours, cruises and lots more to make your itinerary complete. She will work together with you to make all the travel arrangements work in together with your Outdoor Travel holiday, cruise or tour.
For those travelling to Europe, each year most major airlines bring out what they call '
Early Bird Airfares
', an opportunity to save on your flight costs when booking early for the year ahead. This often also applies to car hire or leasing and rail passes too. To take advantage of these special offers Yvette recommends you ask about these savings and book early - particularly for the busier periods such as May/June & September / October & during school holidays.
Many coach tour or cruise operators (e.g.
Insight Vacations
or
Scenic Tours
) offer discounted flights or credits towards airfares in conjunction with booking their tours early, so do check these with us if you want to combine these with one of our Outdoor Travel holidays.
Call Yvette directly on
(03) 57 501 044
or email
fares@outdoortravel.com.au
with your request and she will then be in contact with you to start making all the required arrangements including travel insurance.
Our guide to Discount or Low Cost Airlines and Airfares:
There are a plethora of low cost airlines operating intercity routes across Europe 'Äď often to regional cities or airports - which may make it easier to connect destinations. Below are a few links for you to consider courtesy of Wikipedia. Please note that Outdoor Travel has no relationship with any of these airlines and we take no responsibility for their services, accuracy or the airlines fitness to operate.

We recommend you read clearly any rules relating to low-cost fares and we advise that you should carefully watch for booking conditions, luggage allowances, airport locations and schedule changes. If you are at all in doubt we suggest you call Yvette to let an experienced travel professional handle your flight bookings through our online CRS system. As we always say 'Äúwithout a travel agent you are on your own'ÄĚ.
Aegean Airlines
Flights within Greece and Greece to Europe
Air Baltic
Flights between Riga (Latvia), Vilnius (Lithuania) and Austria, Belarus, Belgium, Czech Republic, Denmark, Estonia, England, Finland, France, Germany, Ireland, Netherlands, Poland, Russia, Spain, Sweden, Ukraine
Air Berlin
Flights within Germany and to many European destinations
Aer Lingus
operate to and from the Republic of Ireland.



Air Malta
Flights between Malta and London Stanstead
City Jet
Flights between London and other UK cities to several European destinations
EasyJet
Major network between UK & Europe
Flybe
To Europe from Southampton, Manchester, Birmingham & Exeter in the UK
German Wings
Flights within Germany and to most European destinations
Helvetic Airways
Flights between Switzerland (Zurich) and Austria, Belgium, Spain
jet2
Flights between the UK including many regional airports and Europe
 



Norwegian Air Shuttle
Flights within Norway and from Norway to England, Portugal, Spain
Ryanair
Major network across UK & Europe 
Smart Wings
Flights between Czech Republic (Prague) and other European destinations
Transavia
Flights Holland (Amsterdam) and many European destinations
TUIFly
Flights within Germany (Cologne-Bonn) and from Germany to Europe & UK
Vueling Airlines
Flights within Spain and from Spain to many centres in Europe
UK & Europe rail & bus information
- see also our links page: 
Rail bookings can be made through our office.
Qjump: - timetable & price information for UK travel
BritRail Pass: - for travel on UK National Rail network
Swiss Railway Timetables: - schedules available for all of Europe

Eurostar Train times & Fares: - via the Channel Tunnel.

UK Bus Information: - coach services throughout the UK.